To Top
Strong message for environmentally conscious consumers
Packaging bearing the 'Made for Recycling Interseroh+' seal has good or very good recyclability.
Impress your customers with a selling point for sustainability! 'Made for Recycling Interseroh+' is a science-based standard for analysing the recyclability of packaging that is recognised both in Germany and internationally. Packaging is assessed on the materials used, as well as the ease of material sorting and the type of disposal needed. Packaging that receives more than 18 of 20 possible points based on this assessment method is permitted to bear the 'Made for Recycling Interseroh+' quality seal.
A stamp of approval for recyclability: how certification works
Pioneering sustainable consumption: examples of packaging that is already 'Made for Recycling Interseroh+'
The Grünländer packaging from Hochland shows how plastic trays for cheese can also be redesigned for optimum recyclability. As a first step, Hochland added recycled materials to its original PET packaging. However, this meant the packaging could no longer be mechanically recycled after use. After consulting with Interseroh+, the cheesemaker switched to a recyclable tray made from polyolefins (PP/PE). This keeps valuable raw materials in the loop – and qualifies the 'Grünländer' packaging for the 'Made for Recycling Interseroh+' quality mark.
Packaging supplier and Interseroh+ partner Packiro specialises in custom-printed, sustainable packaging solutions. The product range includes recyclable stand-up/flat-bottom pouches made from a single type of plastic. Customers can have the 'Transparent Toni' and 'Metallised Martha' variants printed with their own design, and can also opt to have the 'Made for Recycling' seal shown on the product pack.
Unilever asked to take a closer look at its 'Cremissimo' ice cream tub, to ensure that this packaging is perfectly compliant with good practice in the closed-loop economy. Lab analysis confirmed that the Cremissimo packaging has very good recyclability – so the product is allowed to show the 'Made for Recycling Interseroh+' seal. The ice cream tubs are made out of 100% polyolefins and without recycling-unfriendly barriers.
New: chocolate in a paper bag! The new 'mini bag' from Ritter Sport is now offered in a paper pouch with very good recyclability and has been awarded the 'Made for Recycling Interseroh+' seal. The new mini bag from Ritter Sport is a first step in the use of paper for packaging. To produce this pouch, the company used a modern, high-tech paper whose coating doesn't cause problems in the recycling process.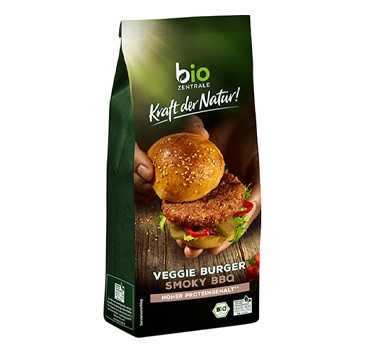 The 'Veggie Burger' dry mix from biozentrale for making vegan burger patties is packed in a paper pouch with a greaseproof paper liner. This approach has been chosen to avoid having to coat the paper, which can lead to problems later during recycling. This ensures that paper fibres can also be reused many times in the loop.
VF Verpackungen has developed a top and thermoforming film for vacuum packaging of meat and sausage products without PA barrier. The NEXT FLEX MPO film consists exclusively of polyolefins and can thus be optimally recycled. In the scientific evaluation of the recycling service provider Interzero, NEXT FLEX therefore also received 19 out of 20 points in terms of its recyclability and thus the grade "very good". NEXT FLEX - for a functional circular economy.
The company ppg > flexofilm GmbH has launched a type of packaging for grated cheese on the market made entirely from polyolefins. Since grated cheese outgasses after production – and therefore in the packaging – the bag or pouch must let these gases escape. This is usually achieved by using a polyamide layer that is very bad for recycling. In the new pack, however, this has been replaced by PP, earning it the 'Made for Recycling Interseroh+' seal.
Etimex offers old PVC tablet blisters with aluminum-foil an environmentally friendly alternative with blisters made of PP with PP lidding foil. The monomaterial solution, unlike PVC and multi-material packaging, can be recycled very well - while maintaining product protection and convenience.
Sustainability is a top priority for organic foods maker Verival. And its packaging is no exception. Verival's breakfast packaging consists of a plain polyolefin inner foil instead of a multi-layer composite, plus a folding carton with good recyclability. The folding carton offers stability during transportation and shipping, and is the only material used for printing, to ensure the inner foil is more easily recycled. The breakfast pack has displayed the 'Made for Recycling Interseroh+' quality mark since mid-2020.
Packaging licensing
Reliable, compliant and convenient